The UAE or United Arab Emirates is home to plenty of beautiful attractions that appeal to every age group. The country is home to the most popular tourist spots in the world, but it can be challenging to decide what you want your kids to see when visiting. Look at this blog post that has an extensive list of things kids will enjoy while visiting the UAE.
The tourist spots for kids in the UAE are fun and thrilling. Apart from the kid-related attractions, children will also enjoy visiting some well-known tourist spots from Dubai, Abu Dhabi, and Sharjah with their families.
Top 5 Places for Children in the UAE
Children are the best. You don't know the things your kids can do, the kind of things they can accomplish. The imagination and creativity they have can blow your mind! There are so many places that are best for kids, and your kids will enjoy these places. This list will be a bit more on the adventurous side, but nothing too crazy or scary! Here are some of the popular places to visit with all kids in the UAE":
National Aquarium Abu Dhabi

If you are in Abu Dhabi and your children want to explore the life of underwater animals, the National Aquarium Abu Dhabi is best for you. The Abu Dhabi National Aquarium is the largest in the Middle East and has 46,000 water animals from more than 300 species. With glass bottom dhow cruises and up-close experiences with sharks, puffins, and freshwater rays, visitors can thoroughly immerse themselves during their visit.
The aquarium is divided into ten nautically themed zones, from the UAE's Natural Treasures to sunken sea wrecks and Atlantic caves, flooded forests, fiery volcanoes, and a frozen ocean. The Aquarium was created to provide children and adults with world-class interactive learning opportunities that highlight the marine environment's critical role in everyone's well-being. You can book Abu Dhabi Aquarium Tickets from the official website to visit the place.
Legoland Dubai and Water Park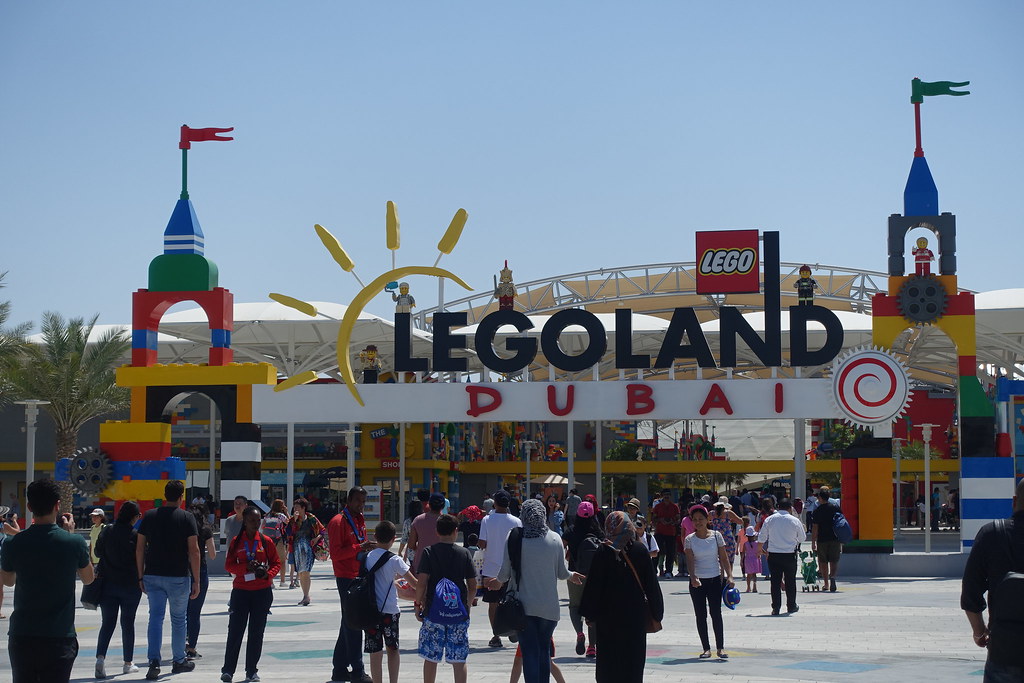 LEGO is a toy that is popular with kids all over the world. Give your children the opportunity to enjoy the LEGO world at Legoland Dubai. Legoland is situated at Dubai Parks and Resorts. It is specially built for children aged 2 to 12. Legoland provides genuine thrills in the form of rides for a fantastic adventure. Legoland park is divided into six sections, each themed after a different Lego creation, such as Factory, Lego City, Kingdoms, Miniland, and more.
Apart from Legoland theme park, there is also Legoland Water Park. LEGOLAND Water Park is the only one of its kind in the city, with more than 20 unique water slides and LEGO-themed attractions. Regardless of whether your children decide to get wet at the Joker Soaker, start a joyful splash, or slide down any of their numerous attractions, they will have lots of fun at the end. After being tired from adventure rides, you can enjoy delicious foods and ice cream at both Legoland Dubai and Legoland Water Park.
Motiongate Dubai
If your kids like Hollywood movies or anime, Motiongate Dubai is the best place to enjoy kid's activities in UAE. It provides top-tier entertainment from Hollywood's top three motion picture studios, so that you and your loved ones can experience the world of innovation and imaginative storytelling. Three of Hollywood's biggest and most successful motion picture studios—DreamWorks Animation, Colombia Pictures, and Lionsgate—have teamed up to create MotionGate Dubai.
Motiongate is divided into five zones: Studio Central, Colombia Pictures, Lionsgate, etc. You can either enter the magical world of the Smurfs or fight alongside the Ghostbusters to save New York. At Studio Central, you can also see real-life New York City movie sets and behind the scenes. Moreover, you can ride various thrilling roller coasters and take your children to multimedia theatre shows. You can also visit the Smurfs' magical world or play the hero at the movie theme park. In short, if you want to give your children a thrilling or exciting experience, Motiongate is the best place.
Global Village Dubai
Global Village Dubai is perfect for children who want to explore different areas of the world. This family-friendly attraction is one of the most popular tourist attractions in the UAE. Global Village is a perfect place for children as it offers a whole lot of activities, including thrilling fun rides, music concerts, comedy shows, etc.
Global Village is home to more than 40 pavilions representing different countries, including Iran, Afghanistan, Vietnam, Egypt, India, Pakistan, etc. Each pavilion showcases their culture, traditions, local products, and food as well. You can try and buy Yemeni honey and browse for gorgeous carpets from Iran and Afghanistan at Global village. If you want your child to explore village products and cultures of different countries, this place is best for your child. Then there is also the Carnaval, where kids and adults can indulge in fun games and rides.
Ski Dubai
Indeed, the UAE is one of the hottest countries in the world. But what if we tell you that you can experience skydiving and cold weather in Dubai? Sounds weird, right? If you want to explore the world of ice and cool weather in summer, Ski Dubai is one of the best places for you.
Although it is pretty challenging to envision a ski resort in the desert, the creative minds behind it have succeeded. Snowboarding, tobogganing, skiing, and even playing with snow penguins are enjoyable activities at Ski Dubai. Allow your kids to have some happy moments by hurling snowballs at one another or by hopping on some snowboards and hitting the slopes by visiting Ski Dubai. It is a perfect place that combines shopping and other activities at the mall.
Conclusion 
The United Arab Emirates is full of activities and attractions that will keep your kids busy and entertained as well. Apart from manmade attractions, the country also offers natural attractions kids will love. You must also take the opportunity to learn about the history, traditions, and culture of the country during your visit. This is important to ensure that your holiday becomes a wholesome experience.